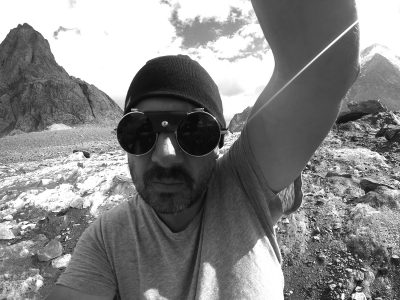 The MATZA project was launched by Swiss artist Séverin Guelpa.
Séverin Guelpa is an artist and curator. He lives and works in Geneva (1974).
Séverin Guelpa is interested in the extreme territories from which he draws his inspiration, seeking to reveal the forces, movements and energies that are found there. His work combines building materials, construction techniques, vernacular knowledge and raw materials to translate the different states of a constantly changing environment. He transforms, weighs or moves materials in large immersive installations that often translate the links between human action and nature, questioning the fragile balances in which the world finds itself today.
In a permanent dialectic between the field and his studio, Séverin Guelpa inscribes his work in the experience of the regions he explores around the world and the expeditions he leads with MATZA, in contact with the territory and its inhabitants. By confronting arid climates, regions with limited resources or the living conditions of the communities that live there, he is interested in what nature can teach us but also in our capacity to adapt. The experience of these places becomes a way for him to address today's ecological, economic or social issues and to reflect on the radical changes that await our society.
www.guelpa.ch
Address
MATZA / Séverin Guelpa
Rue Charles-Humbert 9
1205 Geneva / Switzerland
info(at)matza.net
www.matza.net
twitter: @matzaproduction